Happy Tuesday! This week we're re-blogging an article from @trekaroo. Check out the excerpt pasted below–
"I admit it. I'm addicted to my iPhone and sometimes for good reason. When our family travels, we use our cell phones for a multitude of tasks that would otherwise require lugging around a huge bag of guidebooks, maps, camera equipment, and so on. The downside of having so many wonderful smart phone apps for road tripping is that when you lose your cell phone connectivity, you're often at a great loss.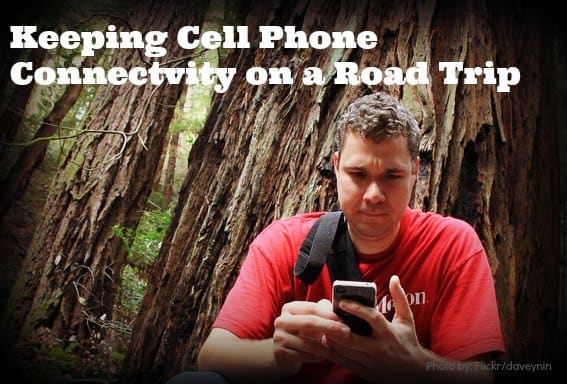 Last year, we went camping just an hour from our house at Portola Redwoods State Park. You would think that here, in the heart of Silicon Valley, there would be cell towers crisscrossing every square inch of the peninsula. However, 'twas not the case. We had our Google Maps app on our phone mapped to Portola Redwoods, but somehow we got lost. I said to go one way, and my husband said go the other. We were at a deadlock. Meanwhile, our trusty iPhone, which usually resolves such family conflicts, drew a very sad blank. We were in a dead zone.
Sound familiar? It got me thinking about what options are available for improving cell connectivity during road trips. With satellite phones still costing a fortune, I looked into an in-car cell signal booster. The kind folks at zBoost and Wilson Electronics, who make all manner of cell phone signal boosting devices for buildings and vehicles, sent me a couple to try out.
Comparing Cell phone Boosters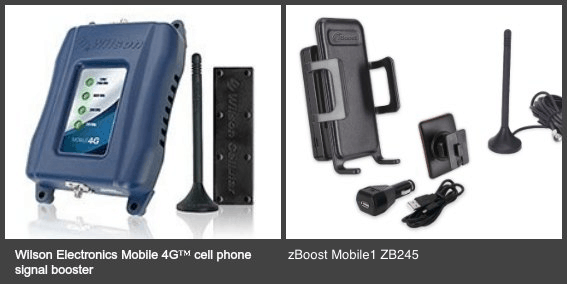 The zBoost Mobile1 ZB245 boosts 3G signals for voice and text for one device attached to a cradle. This model is $89.99. The Wilson Electronics Wireless Mobile 4G cell phone signal booster is able to boost up to 4 mobile devices at varying bandwidths. It sells for $399.99. I was curious about how well these would work, and what advantages are offered for the significant price differential.

The instructions for setting up both devices were a little more daunting than the actual setup. A magnetic antenna sticks to the top of your car for both signal boosters. One wire connects the antenna to the cell phone signal booster, and the other powers the booster using your car battery. For the zBoost, you place your cell phone in a cradle and viola!, you're done. Your phone must be on the cradle for the signal to boost. The Wilson Electronics Wireless Mobile 4G cellphone signal booster has an additional flat low profile sending antenna that is installed inside your car. It works wirelessly with up to 4 devices, and boosts voice, text, and data signals for a variety of bandwidths."
To read the rest of this article, check back next week for our second installment! Or, you can view the entire thing here. Thanks again Trekaroo!