Welcome to this week's installment of "Wireless Wednesday" where we discuss what's going on in the Wireless/Tech world. In case you missed our previous "Wireless Wednesday" post, click here. Today the wireless world is talking about the new Kindle Fire tablet. Read an excerpt of an article by @FierceWireless, explaining the announcement in greater detail below.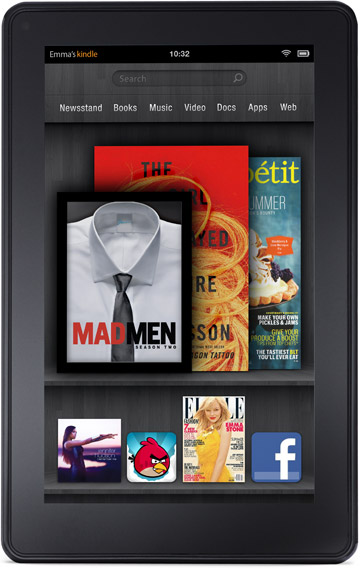 "Amazon.com unveiled its long-awaited 7-inch Android-based tablet, dubbed the Kindle Fire. The device, which has Wi-Fi but no 3G cellular connectivity, will cost $199 and go on sale Nov. 15.  It will be available for preorder today.
The Kindle Fire, which represents the boldest challenge yet to Apple's dominant iPad, does not attempt to directly compete with it in terms of specifications or via a relationship with wireless carriers. Amazon's tablet, which runs a modified version of Google's Android platform, has no camera or microphone, and is $300 cheaper than the least expensive iPad 2 with Wi-Fi connectivity.
The Kindle Fire sports a dual-core 1 GHz Texas Instruments OMAP 4 processor, 8 GB of internal storage and the battery is rated for eight hours of continuous reading. The device also uses Amazon's EC2 cloud computing engine to deliver a mobile Internet browsing experience Amazon calls "Silk." The service combines Amazon's EC2 cloud engine and the device to offer a faster browsing experience, Amazon said."
To read more of this article, or to see it in it's original format, click here. Also, make sure and check out our Facebook and Twitter to see what our fans/followers have had to say about this week's "Wireless Wednesday" topic.
Well there you have it. What do you think, folks? Let me know in the comments if you are you excited about this announcement, and if the new Kindle will be on your holiday wish list.