Works with every network, including 5g, on any carrier.


The weBoost Installed | Home Complete is the 1st home cell signal booster with professional installation included and weBoost's most powerful residential booster. This turnkey solution is designed to increase cellular connectivity and signal strength throughout an entire home; totaling up to 7,500 sq. ft.*
Professional installation included in all 50 states & every U.S ZIP code
After purchase, installation can be scheduled for a date and two-hour window that's most convenient for you (often, as soon as the next day)
Avoid the hassle of a DIY installation
Capable of reaching cell towers at distances up to 26% farther than the Home MultiRoom; while providing up to 46% more cell coverage
Works on all US carrier networks and is compatible with all phones and cellular devices
Provides multiple users with fewer dropped calls, better voice quality, uninterrupted streaming capability, faster data speeds, and more
*May vary depending on outside signal conditions.
5G Ready - weBoost boosters will work for the next decade and beyond.
**For information on Connect 4G-X specs and the installation guide, please see below.
Product Highlights
Made for significant coverage challenges

Smart technology to detect outside signal

Flat window cable for tool-free installation

US-based customer support for installation
In the Box
Documents

471104

Connect 4G Booster

314411

Outside Directional Antenna

311135

Inside Panel Antenna

850010

Power Supply

952375

75' Wilson 400 Ultra Low-loss Cable

952360

60' Wilson 400 Ultra Low-loss Cable
Specs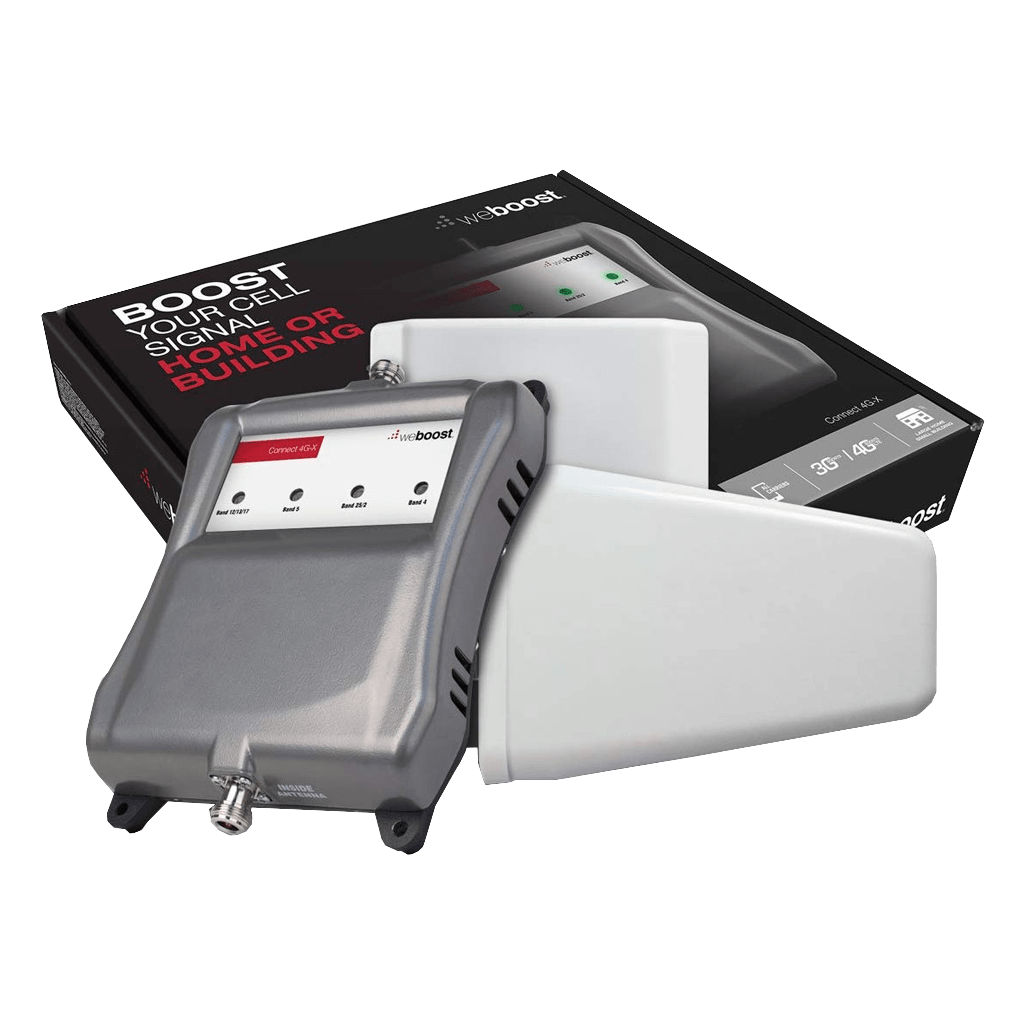 Connect 4G-XModel #: 471104
Band 12/17 700 MHz

Band 13 700 MHz

Band 5 850 MHz

Band 4 1700/2100 MHz

Band 2 1900 MHz

50 Ohm

110-240V AC, 50-60 Hz, 20 W

N-Female

8.75 x 6.25 x 1.50 in.

2.575 lbs.

Warning: Cancer and Reproductive Harm - www.P65Warnings.ca.gov
BEFORE USE, you MUST REGISTER THIS DEVICE with your wireless provider and have your provider's consent. Most wireless providers consent to the use of signal boosters. Some providers may not consent to the use of this device on their network. If you are unsure, contact your provider. You MUST operate this device with approved antennas and cables as specified by the manufacturer. Antennas MUST be installed at least 20 cm (8 inches) from any person. You MUST cease operating this device immediately if requested by the FCC or a licensed wireless service provider.

WARNING. E911 location information may not be provided or may be inaccurate for calls served by using this device. Please note, the four largest carriers, namely, AT&T, T-Mobile, Verizon and Sprint, and more than 90 regional carriers have given a blanket consent to all boosters meeting the new certification standards.