Email me this page
Product Description
The weBoost Home MultiRoom is a multi-user home cell phone signal booster. With 65 dB max gain, it's rated to boost cell connectivity for as many as three large rooms (or up to 5,000 sq. ft.)

With up to 21 dBm in uplink-output power, the Home MultiRoom easily reaches cell towers at distances up to 23% farther with up to 91% more coverage area—as compared to the Home Room. It also boasts up to 12 dBm in downlink-output power. While within the Home MultiRoom's range, users experience fewer dropped calls, better voice quality, greater hotspot capability, and faster internet speeds in the designated area. The kit is designed for easy, tool-free installation.

Home MultiRoom is compatible with all cell phones, tablets, hotspots, and cellular-connected devices and on all US mobile carriers—including Verizon, Sprint, AT&T, T-Mobile, and more.
5G Ready - weBoost boosters will work for the next decade and beyond.
Warning: Cancer and Reproductive Harm - www.P65Warnings.ca.gov
Features
Up to 21 dBm uplink-output power for impressive range
Set of wall-mount brackets for booster & inside antenna
Finger-tightened outside antenna clamp and flat-window cable
Home MultiRoom booster includes Band 25 optimization
*Can also be installed with screws (not included.)
Benefits
Reaches towers up to 23% farther away than the Home Room
Allows for secure, versatile install using 3M Command™ Strips*
Provide for tool-free installation, no need to drill holes in walls
Improves performance of LTE signal for Sprint customers
How It Works
Signal boosters increase cell signal by collecting signals with a powerful antenna, delivering those signals to the booster, amplifying the cell signals so your devices receive them, and delivering your device's boosted signals back to the cell tower.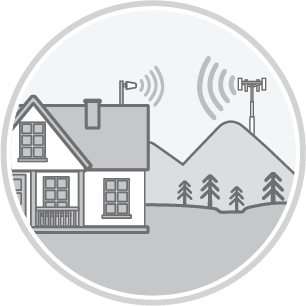 The outside antenna reaches out to the cell tower to access voice and data signals.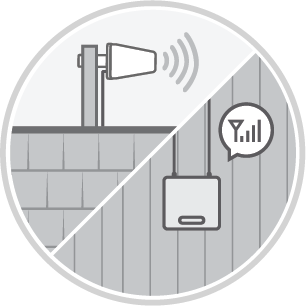 The booster receives the outside signal from the outside antenna.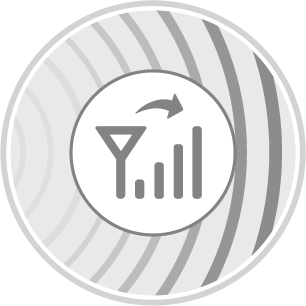 The booster amplifies the outside signal and sends it to the inside antenna.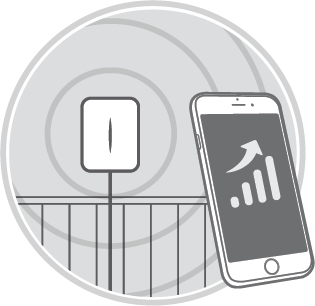 The inside antenna broadcasts the boosted signal to devices inside the home.
Specs
Model Number:
470144
Frequency
Band 12/17
700 MHz
Band 13
700 MHz
Band 5
850 MHz
Band 4
1700/2100 MHz
Band 25/2
1900 MHz
Max Gain
65 dB
Power Req
110-240V AC, 50-60 Hz, 20 W
Connectors
F-Female
Dimensions
6.5 x 6 x 2.625 in
Weight
1.9 lbs
Price
$ 549.99
In the box
Each device comes with everything you need for a complete installation. You can also pick up extra parts to extend your installation, if you need help, just give us a call.


Outside Directional Antenna
(314445)

Fabric Inside Panel Antenna
(314440)

15' (x2) + 30' Cables
(YX030-15W)(950630)

Flat Window Cable
(951177)


Outside Antenna Mounting Bracket

Wall-Mount Brackets w/3M Command Strips (x2)

Cable Mounting Clips (x15)
Resources
Review Snapshot
---
Would definitely buy again.
Great quality product. Without it, my cell service would not work at times in the Texas Hill Country.
Bottom Line Yes, I would recommend to a friend
Was this review helpful to you? Yes: 1 No: 0
Submitted 13 days ago
By JR
From Concan TX
Works as advertised- easy set up.
Would give 5 stars except for the power cord assembly attachment into the power supply. Barely, connects- and seems to have some dimensional challenges in between the cord and the power supply. Cord on Pin connector OD is a bit large for the ID allowance on the power supply. It connects; but is most easily dislodged by any nearby cord movement etc. Overall- the unit performs as advertised and we can now use our cell phones from home office without fear of garbling and or disconnect. Thanks
Bottom Line Yes, I would recommend to a friend
Was this review helpful to you? Yes: 4 No: 0
Submitted a month ago
By Mary
From Sedona
Yes
I didn't have any signal in my house before I purchased the multi room signal booster now I have signal everywhere in my house great product.
Bottom Line Yes, I would recommend to a friend
Was this review helpful to you? Yes: 1 No: 1
Submitted a month ago
By Happy customer
From Minnesota
I would purchase again!
Great product ! Used on a 4000 sq ft home with 5 different users and there is no loss of signal. Signal went from 1x to 4g and signal went from 2 bars to 4 or 5 bars great. I would recommend to anyone who lives way out in the rural country areas.
Bottom Line Yes, I would recommend to a friend
Was this review helpful to you? Yes: 4 No: 0
Submitted 2 months ago
By Beetle
From Lisbon,ohio
As T-Mobile customers, we went from No Svc/1 bar to 3 bars!
PROs: 1. Greatly improved our T-Mobile cell phone reception! We no longer have dropped calls, or complaints of us "breaking up" when speaking. 2. The (included) RG6 Coaxial "Window Entry" cable (flat connector) is brilliant! It worked perfectly in our window sash. I greatly appreciated not having to drill a hole from the exterior to the interior of my house. This little component really adds to the installation compatibility/flexibility of this kit/unit. 3. For more rural locations, locating the exact position of your closest cell tower is a must! The weBoost website has a Support page that offers links (and FAQs) to web apps that can help take the "guessing" out of the equation. CONs: 1. To maximize effectiveness, the Antenna must be laterally separated by 50 ft or more (or 20 ft vertically) from the Booster and, yet, the kit only comes with 60 ft (a 30 ft + 2 x 15 ft) of RG6 Coaxial cable. That only gives you 10 ft of slop to make turns, reroute through windows and into attics, etc. I had to buy a 50 ft cable (in place of the 30 ft) to make it all work. Getting a 50 ft displacement, in a normal-sized house, is not as easy as it sounds. 2. Without a high-tech Signal strength reader (not included), positioning the Antenna for maximum reception (both in azimuth and elevation) was a shot in the dark. I followed the instructions to put my iPhone in Field Test mode, but found out it was a very imperfect science. This is most frustrating accepting the fact that I still may not be achieving the "most" out of my weBoost system. 3. It's almost the dead of winter here now. We are surrounded by 100 ft trees. Though the weBoost system works great now, come Spring, I'm worried about how "ineffective" it may become when the trees are full of leaves and possibly degrade the cell tower signal reception. I'm dreading the worst . . . $-(
Bottom Line Yes, I would recommend to a friend
Was this review helpful to you? Yes: 3 No: 0
Submitted 2 months ago
By T-Mobile man
From Fayetteville, GA
Steven
I'm using the Home MultiRoom at a remote cabin in the woods. Unamplified signal there is weak and gets tossed around by mountains and canyons. This unit has made it possible to get pretty reliable phone service, along with texting almost always. Sometimes I can even (slowly) load web pages on my phone. I am very pleased, especially given the location. I suspect this device would work wonders in flatter terrain. Highly recommended. (If it doesn't work for your situation, you can always return it in 30 days, penalty-free.)
Bottom Line Yes, I would recommend to a friend
Was this review helpful to you? Yes: 1 No: 1
Submitted 3 months ago
By Steven
From Southern California
It works
I was skeptical about spending $500+ for a booster, because I bought a cheap one before that didnt work. Since they offered a 30 day money back I decided to give it a shot. It works great. I went from zero bars in my basement to almost full bars. I used the open signal app to point it to the nearest tower. It will take me a day of working to pay it off, but for right now it was well worth it. I am only giving it 4 stars for now because I just hooked it up today. Time will tell in order to qualify for 5 stars. A little worried what rain will do to the outdoor antenna in long run, but we'll see. I would say to the person reading to this to buy it if you have at least some signal outside but need more inside. It works
Bottom Line Yes, I would recommend to a friend
Was this review helpful to you? Yes: 8 No: 0
Submitted 4 months ago
By Rich
From Lake Hartwell, South Carolina
Great for offgrid and camping applications
Today we installed the @weboost cellular signal booster at #thelandbysuperesse and we went from 1 bar to 5 bars of signal. Great addition to our #offgrid #cabin. 1. Installed interior antenna to far side of cabin. 2. Installed booster to near side of cabin. 3. Installed exterior one direction antenna on roof of near side of antenna. 4. Ran coaxial cable to all components. Easy install and now I'm posting on social media from our cabin which was near impossible to do before.
Bottom Line Yes, I would recommend to a friend
Was this review helpful to you? Yes: 8 No: 0
Submitted 4 months ago
By Superesse
From North Carolina
PRODUCT WAS AS ADVERTISED
for laptop comm's
Bottom Line Yes, I would recommend to a friend
Was this review helpful to you? Yes: 4 No: 7
Submitted 5 months ago
By james m.
From SC
Q&A
Showing 10 out of 15 Questions
BEFORE USE, you MUST REGISTER THIS DEVICE with your wireless provider and have your provider's consent. Most wireless providers consent to the use of signal boosters. Some providers may not consent to the use of this device on their network. If you are unsure, contact your provider. You MUST operate this device with approved antennas and cables as specified by the manufacturer. Antennas MUST be installed at least 20 cm (8 inches) from any person. You MUST cease operating this device immediately if requested by the FCC or a licensed wireless service provider.
Warning.
E911 location information may not be provided or may be inaccurate for calls served by using this device. Please note, the four largest carriers, namely, AT&T, T-Mobile, Verizon and Sprint, and more than 90 regional carriers have given a blanket consent to all boosters meeting the new certification standards