Email me this page
Product Description
The weBoost Home MultiRoom is a multi-user home cell phone signal booster. With 65 dB max gain, its rated to boost cell connectivity for as many as three large rooms (or up to 5,000 sq. ft.)

With up to 21 dBm in uplink-output power, the Home MultiRoom easily reaches cell towers at distances up to 23% farther with up to 91% more coverage area—as compared to the Home 4G. It also boasts up to 12 dBm in downlink-output power. While within the Home MultiRoom's range, users experience fewer dropped calls, better voice quality, greater hotspot capability, and faster internet speeds in designated area. The kit is designed for easy, tool-free installation.

Home MultiRoom is compatible with all cell phones, tablets, hotspots, and cellular-connected devices and on all US mobile carriers—including Verizon, Sprint, AT&T, T-Mobile, and more.
Warning: Cancer and Reproductive Harm - www.P65Warnings.ca.gov
Features
Up to 21 dBm uplink-output power for impressive range
Set of wall-mount brackets for booster & inside antenna
Finger-tightened outside antenna clamp and flat-window cable
Home MultiRoom booster includes Band 25 optimization
*Can also be installed with screws (not included.)
Benefits
Reaches towers up to 23% farther away than the Home 4G
Allows for secure, versatile install using 3M Command™ Strips*
Provide for tool-free installation, no need to drill holes in walls
Improves performance of LTE signal for Sprint customers
How It Works
Signal boosters increase cell signal by collecting signals with a powerful antenna, delivering those signals to the booster, amplifying the cell signals so your devices receive them, and delivering your device's boosted signals back to the cell tower.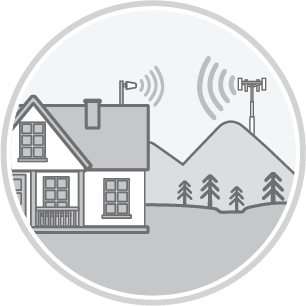 The outside antenna reaches out to the cell tower to access voice and data signals.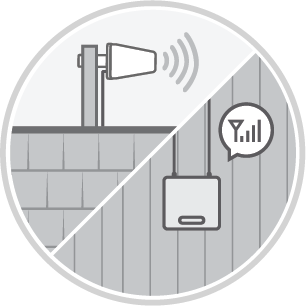 The booster receives the outside signal from the outside antenna.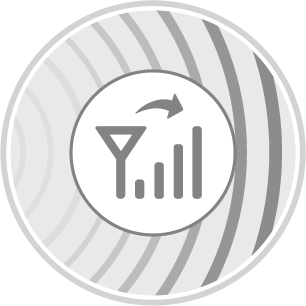 The booster amplifies the outside signal and sends it to the inside antenna.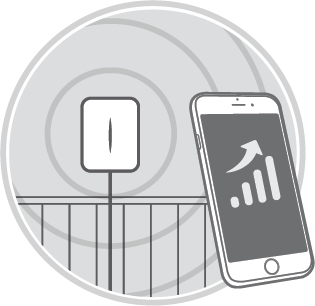 The inside antenna broadcasts the boosted signal to devices inside the home.
Specs
Model Number:
470144
Frequency
Band 12/17
700 MHz
Band 13
700 MHz
Band 5
850 MHz
Band 4
1700/2100 MHz
Band 25/2
1900 MHz
Max Gain
65 dB
Power Req
110-240V AC, 50-60 Hz, 20 W
Connectors
F-Female
Dimensions
6.5 x 6 x 2.625 in
Weight
1.9 lbs
Price
$ 549.99
In the box
Each device comes with everything you need for a complete installation. You can also pick up extra parts to extend your installation, if you need help, just give us a call.


Outside Directional Antenna
(314445)

Fabric Inside Panel Antenna
(314440)

15' (x2) + 30' Cables
(YX030-15W)(950630)

Flat Window Cable
(951177)


Outside Antenna Mounting Bracket

Wall-Mount Brackets w/3M Command Strips (x2)

Cable Mounting Clips (x15)
Resources
Review Snapshot
---
PRODUCT WAS AS ADVERTISED
for laptop comm's
Bottom Line Yes, I would recommend to a friend
Was this review helpful to you? Yes: 1 No: 0
Submitted 18 days ago
By james m.
From SC
Q&A
Showing 10 out of 5 Questions
Asked by Russ 15 days ago
Question: Will this work with Horizon and can we test signal boosting before purchase ?
Answer: This will work on Verizon, but there's no way to test the amplifier itself before purchasing. The best way to go about this is to do a site survey around your home using decibels to read your signal strength outside using your phone. here's a link on how to receive decibel readings on your phone: https://support.weboost.com/hc/en-us/articles/206521937-Finding-Your-Phone-s-Signal-Strength-Reading-Field-Test-Mode- Once you have that information, please give our customer support a call. They will be able to determine which amplifier to purchase if you have appropriate readings outside your home. We also have a 30-day money-back guarantee which allows you to set up the amplifier temporarily and test it properly to receive a better idea if the amplifier is sufficiently amplifying your signal. Please give us a call at 866-294-1660 or email us at [email protected] if you have any other questions.
Was this question helpful to you? Yes: 0 No: 0
---
Asked by Alfredo 22 days ago
Question: How do I know if this will help with my specific WiFi hotspot ( coolpad surf) on Sprint network
Answer: You'll have to know whether your carrier's towers are using Band 25 on your phone. If not, then the product will most likely not work since we can only cover Band 25 for Sprint at the moment. We are always trying to receive more permissions on the other frequency bands that are used by Sprint but that will take more time for approval from the FCC. If you have any other questions or concerns, please give us a call at 866-294-1660 or email us at [email protected]
Was this question helpful to you? Yes: 0 No: 0
---
Asked by Rick a month ago
Question: How many phones can operate on the system at once?
Answer: As many as needed as long as there's enough coverage for everyone. The only limitation is the tower itself in providing the proper coverage needed for all phones for that carrier in the area. If you have any issues or if there's any other questions or concerns, please let us know! Our contact info for our US-based phone support is at 866-294-1660 or our online support at [email protected]
Was this question helpful to you? Yes: 0 No: 0
---
Question: What is the dimension of the outside antenna?
Answer: L" 14.25 W" 9.13 H" 4
Was this question helpful to you? Yes: 0 No: 0
---
Asked by Squirrelbait a month ago
Question: Will this cell booster also increase my wifi signal coverage?
Answer: It will not, we only can amplify cell signal. However, using a hotspot will help with WiFi indirectly since hotspots use cellular to create a WiFi signal. Hope this helps! If there's any other questions or concerns, please let us know by calling our customer support at 866-294-1660 or our online support at [email protected]
Was this question helpful to you? Yes: 0 No: 0
---
BEFORE USE, you MUST REGISTER THIS DEVICE with your wireless provider and have your provider's consent. Most wireless providers consent to the use of signal boosters. Some providers may not consent to the use of this device on their network. If you are unsure, contact your provider. You MUST operate this device with approved antennas and cables as specified by the manufacturer. Antennas MUST be installed at least 20 cm (8 inches) from any person. You MUST cease operating this device immediately if requested by the FCC or a licensed wireless service provider.
Warning.
E911 location information may not be provided or may be inaccurate for calls served by using this device. Please note, the four largest carriers, namely, AT&T, T-Mobile, Verizon and Sprint, and more than 90 regional carriers have given a blanket consent to all boosters meeting the new certification standards