Home Complete | 470145

Email me this page
Product Description
The weBoost Home Complete is our most powerful cell signal booster for residential use. With 72 dB max gain, it delivers the strongest cell signal possible for large homes; up to 7,500 sq. ft.
Boasting up to 24 dBm in uplink-output power, the Home Complete easily reaches cell towers at distances up to 26% farther with up to 46% more coverage area than our next most powerful booster—Home MultiRoom. It also boasts over 12 dBm in downlink-output power. With Home Complete, users enjoy fewer dropped calls, better voice quality, greater hotspot capability, and faster internet speeds. The kit is designed for a step-by-step, guided DIY installation.
Home Complete is compatible with all cell phones, tablets, hotspots, and cellular-connected devices and on all US mobile carriers—including Verizon, Sprint, AT&T, T-Mobile, and more.
Warning: Cancer and Reproductive Harm - www.P65Warnings.ca.gov
Features
Up to 24 dBm uplink-output power for unparalleled range
Set of wall-mount brackets for booster & inside antenna
Anodized aluminum booster and fabric-covered inside antenna
Home Complete booster includes Band 25 optimization
*Can also be installed with screws (not included.)
Benefits
Reaches towers up to 26% farther away than Home MultiRoom
Allows for secure, versatile install using 3M Command™ Strips*
Stylish modern design looks at home with contemporary décor
Improves performance of LTE signal for Sprint customers
How It Works
Signal boosters increase cell signal by collecting signals with a powerful antenna, delivering those signals to the booster, amplifying the cell signals so your devices receive them, and delivering your device's boosted signals back to the cell tower.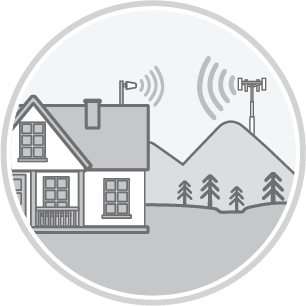 The outside antenna reaches out to the cell tower to access voice and data signals.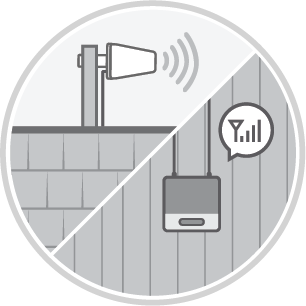 The booster receives the outside signal from the outside antenna.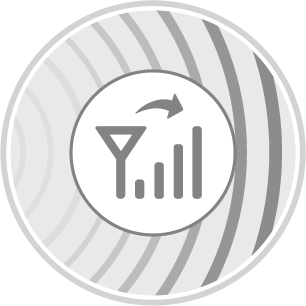 The booster amplifies the outside signal and sends it to the inside antenna.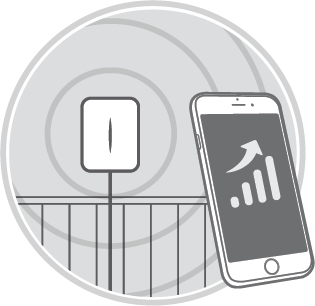 The inside antenna broadcasts the boosted signal to devices inside the home.
Specs
Model Number:
470145
Frequency
Band 12/17
700 MHz
Band 13
700 MHz
Band 5
850 MHz
Band 4
1700/2100 MHz
Band 25/2
1900 MHz
Max Gain
72 dB
Power Req
110-240V AC, 50-60 Hz, 20 W
Connectors
F-Female
Dimensions
8.25 x 6 x 2.4 in
Weight
1.55 lbs
Price
$ 999.99
In the box
Each device comes with everything you need for a complete installation. You can also pick up extra parts to extend your installation, if you need help, just give us a call.


Outside Directional Antenna
(314445)

Fabric Inside Panel Antenna
(314440)

60' + 75' Black RG11 Cables
(951160)(951175)


Outside Antenna Mounting Bracket

Wall-Mount Brackets w/ 3M Command Strips (x2)

Cable Mounting Clips (x15)
Resources
Review Snapshot
---
Q&A
Showing 10 out of 3 Questions
Asked by Chris 7 days ago
Question: How many simultaneous connections/users are supported?
Answer: The number of users on the device doesn't affect the performance of the amplifier. Tower capacity is what may inhibit the upload and download of many users at one time. Most towers are capable of having 500+ users at one time in a rural location - even more so in an urban area. You only need to worry about your cellular signal outside your home or office and if the signal will be able to cover the area you would like to cover. If you haven't already done so, please contact our customer support team and they can determine what would be best for your situation. I have no doubt that we will be able to meet your needs with the Home Complete system. If you have any issues or if there are any other questions or concerns, please let us know! Our contact info for our US-based phone support is at 866-294-1660 or our online support at [email protected]
Was this question helpful to you? Yes: 0 No: 0
---
Asked by Bob645 9 days ago
Question: I have no cell signal at home. The nearest LTE signal is 2 miles away by road. Less in a direct line. Will your unit work under those conditions?
Answer: That's a very difficult situation for our amplifiers to perform in. Since amplifiers use the current signal outside and amplify it inside your home, there needs to be signal available for the amplifier to properly boost the signal. When there's no signal available the amplifier has nothing to amplify which results in a frustrated customer and time wasted on returning the product. We recommend not purchasing an amplifier in these situations since they commonly result in returns. If you are able to find some signal then we should be able to work with that. We have seen customers raise their antenna 20-30 ft and have seen results that way but prior testing before attempting is important. Please let us know if you need any other questions answered or would like to learn more about our amplifiers. Our contact info for our US-based phone support is at 866-294-1660 or our online support at [email protected] Thank you!
Was this question helpful to you? Yes: 0 No: 0
---
Asked by Jimmy 12 days ago
Question: Does this work with all cell phone companies? Verizon, Sprint, ATT?
Answer: Yes! Our amplifiers work with all of the major carriers in the US and Canada. If you have any issues or if there's any other questions or concerns, please let us know! Our contact info for our US-based phone support is at 866-294-1660 or our online support at [email protected]
Was this question helpful to you? Yes: 0 No: 0
---
BEFORE USE, you MUST REGISTER THIS DEVICE with your wireless provider and have your provider's consent. Most wireless providers consent to the use of signal boosters. Some providers may not consent to the use of this device on their network. If you are unsure, contact your provider. You MUST operate this device with approved antennas and cables as specified by the manufacturer. Antennas MUST be installed at least 20 cm (8 inches) from any person. You MUST cease operating this device immediately if requested by the FCC or a licensed wireless service provider.
Warning.
E911 location information may not be provided or may be inaccurate for calls served by using this device. Please note, the four largest carriers, namely, AT&T, T-Mobile, Verizon and Sprint, and more than 90 regional carriers have given a blanket consent to all boosters meeting the new certification standards