Trusted by
First
responders
to keep call signals
strong
Drive 4G-X | 470510
(formerly MobileMaxx 4G)
Ideal for:
Car, Truck, or RV
Email me this page
Product Description
The Drive 4G-X is our professional-grade, in-vehicle cell signal booster. Easily installed in minutes without tools or modifications, it works instantly once it's powered up with no phone pairing required.
The Drive 4G-X is designed to amplify cell signals inside any car, truck, van, or SUV—allowing drivers and passengers to experience fewer dropped calls, better voice quality, faster network speeds, and improved audio and video streaming. This impressive device boosts existing signal strength to multiple cell devices with up to 50 dB system gain—the maximum amount allowed by the FCC. With the weBoost Drive 4G-X, you can enjoy reliable cellular connectivity and make the most of your mobile carrier network coverage in urban, suburban, and remote settings.
5G Ready - weBoost boosters will work for the next decade and beyond.
Warning: This product can expose you to chemicals including Nickel, which is known to the State of California to cause cancer, and Bisphenol A, which is known to the State of California to cause birth defects or other reproductive harm. For more information go to www.P65Warnings.ca.gov
Features
Boosts signal for all U.S. cell carriers
Friendly, U.S.-based customer support
All components needed for installation in one package
Simple instructions and DIY installation
FCC Certified
Benefits
Extends cellular signal range
Reliable cell signal and more consistent data speeds
Faster data downloads
Up to 2 hours additional talk time in weak-signal areas
How It Works
Signal boosters increase cell signal by collecting signals with a powerful antenna, delivering those signals to the booster, amplifying the cell signals so your devices receive them, and delivering your device's boosted signals back to the cell tower.
The outside antenna reaches out to the cell tower to access voice and data signals.
The booster receives the outside signal from the outside antenna.
The booster amplifies the outside signal up to and sends it to the inside antenna.
The inside antenna broadcasts the boosted signal inside the vehicle.
Specs
Model Number:
470510
Frequency
Band 12/17
700 MHz
Band 13
700 MHz
Band 5
850 MHz
Band 4
1700/2100 MHz
Band 2
1900 MHz
Max Gain
50 dB
Power Req
6V DC vehicle power supply
Connectors
SMA Female
Dimensions
4.375 x 6.375 x 1.375 in
Weight
1.16 lbs
Price
$ 399.99
In the box
Each device comes with everything you need for a complete installation. You can also pick up extra parts to extend your installation, if you need help, just give us a call.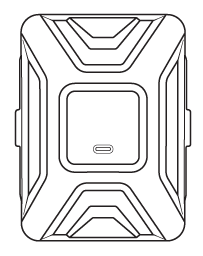 Drive 4G-X

Outside Antenna

Power Supply
Inside Antenna
Review Snapshot
Most Liked Positive Review
Absolutely epic!
This thing is amazing. I live in a Sportsmobile 4x4 converted van and work remotely. Without the weBoost 4G-X I was finding myself tied down to urban areas during the "work week" and really being frustrated that my off grid capabilities were being impacted by Verizon's network coverage. I was up in Banff National Park and had 1 bar of LTE from my campsite, it was super unreliable and I ended up spending most of my time parked in my van in town. I had to fly home to CA for a quick wedding and while in CA I purchased the 4G-X. I flew back with the device set it up on the van in about 10-minutes (super simple). To my amazement, I went from 1 bar LTE up to 4 bar LTE! I was able to spend a full week in a back country campsite and had a super productive work week because of this device. I cannot recommend it enough to anyone that needs to stay connected and can't afford satellite internet data plans. I have even engineered a way to make this thing portable! Also, the device is super rugged. The antenna is small and super durable. We are always driving 4x4 trails in all sorts of weather and the antenna can take some serious abuse. It still looks and functions as if it was brand new. Awesome product, I highly recommend.
Most Liked Negative Review
It works...
Use this in my semi. Im usually right outside of a good service area, i can drive 5 to 10 minutes and be back in an lte area. When I first started I wasnt seeing a great improvement so i called customer service. I was told it only boosts 3g signal and I would have to turn the lte off. Downloaded the rf monitor app and as far as i can see it only boosts it from about -97 to -82 or so. It does work though. I can connect to facebook, the internet is slow but usually works. Things like youtube or videos on facebook are hit and miss. It was easy to install, took me about 20 minutes. Overall i have recommended it to friends because it is an improvement but i also encouraged them to shop around and see if they can find a better deal on a different booster similar to this one. Given the chance i wouldnt spend another $546.74 on it.
---
Ron
I get this for mu Motor Home and it will not work in a Motor Home. They did not tell you that you have to be 3 feet form the antenna. wish l got the Drive x RV. For a car it is ok.
Bottom Line Yes, I would recommend to a friend
Was this review helpful to you? Yes: 0 No: 0
Submitted 2 months ago
By Ron
From Lansing, Mi
Wish we got one sooner!
We noticed we do not get an increase in signal bars, but emails and web pages load much faster, and so far have not had someone say they could barely hear me (which happened right before we installed the WeBoost - my version of product testing).
Bottom Line Yes, I would recommend to a friend
Was this review helpful to you? Yes: 1 No: 0
Submitted 5 months ago
By Shotgun
From Florida
Good replacement for my 3G booster
I had an older Wilson 3G booster that served me very well for years, but my new phone would not allow me to shut off the 4G and use only 3G, so I no longer had service in the fringe areas. This booster gave me better coverage than I ever had with my previous booster. I've only been using it a week, but so far, I couldn't be happier with my purchase.
Bottom Line Yes, I would recommend to a friend
Was this review helpful to you? Yes: 0 No: 0
Submitted 6 months ago
By Jay
From ND
NEVER!!!!!!! Extreamly disapointed
I live full time on the road in an RV and rely on signal booster due to the remote places I go. This is my second Weboost I have purchased from this company only to have it fail soon after warranty. The reliability of this product is highly in question and the company will NOT stand behind their product. I will not make the same mistake again.
Bottom Line Yes, I would recommend to a friend
Was this review helpful to you? Yes: 11 No: 5
Submitted 6 months ago
By Disappointed Dave
From All over the country
Impressive for my ATT service in New England
Short and sweet, this is one of the best investments I have ever made considering I travel all over New England for work and NEED my phone. I pretty much never give 5 star reviews for anything but this gets it because of my coverage is so great now. This has already paid for itself 10 times over because I can be that much more effective communicating with my clients. - was a bit of a pain to install and make it look nice - I go through the car wash all the time so I have to keep removing the magnet mount antenna and then remount after the wash. Not a huge deal but a pain and PAINFUL if you forget it's there or someone else wants to be nice and wash your car not knowing they need to remove it - haven't bought it yet but I'm looking at installing a permanent antenna from Wilson - plenty of length to the antenna wires, got where I needed in my Jeep Cherokee with no problems - hiding the wires behind trim takes some time but well worth it for a quality install - stupid me installed the inside antenna right next to my head, recommend installing it on the passenger side where a person is less likely to be - just for reference, for approximately 45 minutes from my house to the city I used to have intermittent service and could not hold a call for more than a minute. Now I can be on a call the whole time with 1 bad spot where I have to repeat myself but don't lose the call - I really can't say enough good things about this. If you're in New England, I know you'll be impressed with the improvement of your cell service. It actually is a bit of a pain driving my wife's car now without the booster because I realize just how much extra coverage I get when I drive my car with the booster.
Bottom Line Yes, I would recommend to a friend
Was this review helpful to you? Yes: 3 No: 1
Submitted 6 months ago
By B. Colby
From Jaffrey, NH
I would buy this product again.
We use these on our Semi Tractors. We get great connectivity.
Bottom Line Yes, I would recommend to a friend
Was this review helpful to you? Yes: 6 No: 1
Submitted a year ago
By Mitzi
From TX
I would buy this product again.
This booster does allow me to make calls at my home when it's impossible to make one without it. It also gives me more coverage to make calls in my home area where the signal is very weak. I've tried other boosters but this brand seems to be the best of the best. No complaints.
Bottom Line Yes, I would recommend to a friend
Was this review helpful to you? Yes: 8 No: 1
Submitted a year ago
By Billy
From WV
Absolutely the best investment I've made!
I love traveling off the beaten path! I now have great cell service when I take a road trip👍👍
Bottom Line Yes, I would recommend to a friend
Was this review helpful to you? Yes: 4 No: 0
Submitted a year ago
By Dan The Man
From Lake View, Al.
Bought a second one and wouldn't be without it now
We absolute love that this product works. It is almost a necessity these days to have good cellular reception where ever you are and we live way out in country with barely any reception. This booster has made that almost completely resolved. Still some dead spots with no signal to boost but otherwise works great. Only downside is installing. While they work without actually fully installing, fixing the wires and mounting the device takes a little time which is why it hasn't yet been done on either of the vehicles so we have wires hanging around every where. Would gladly pay someone to take care of it.
Bottom Line Yes, I would recommend to a friend
Was this review helpful to you? Yes: 8 No: 0
Submitted a year ago
By kmuncountrygal
From TX
excellent product purchased for four vehicles
Placed them in police cruiser, we now have cell signal in the majority of the town which prevents without losing calls.
Bottom Line Yes, I would recommend to a friend
Was this review helpful to you? Yes: 11 No: 1
Submitted a year ago
By Chief Mike
From Canterbury, NH
Q&A
Showing 10 out of 176 Questions
BEFORE USE, you MUST REGISTER THIS DEVICE with your wireless provider and have your provider's consent. Most wireless providers consent to the use of signal boosters. Some providers may not consent to the use of this device on their network. If you are unsure, contact your provider. You MUST operate this device with approved antennas and cables as specified by the manufacturer. Antennas MUST be installed at least 20 cm (8 inches) from any person. You MUST cease operating this device immediately if requested by the FCC or a licensed wireless service provider.
Warning.
E911 location information may not be provided or may be inaccurate for calls served by using this device. Please note, the four largest carriers, namely, AT&T, T-Mobile, Verizon and Sprint, and more than 90 regional carriers have given a blanket consent to all boosters meeting the new certification standards