What Is the Best Fleet Signal Booster for Vehicles in 2022?
Posted on 1/5/2022 by Izzy Jack
Access to cellular signal fuels today's transportation-based businesses. Transport and logistics companies and departments depend on clear, consistent communication between their fleet vehicles. Cellular reception makes it possible to use electronic logging devices, process payments with portable credit card terminals, report vehicle issues, transmit work orders and documents, maintain real-time GPS data, and perform other important tasks. 
Being stuck with poor cell signal stifles efficiency for commercial drivers, dispatchers, and fleet managers. Poor reception is especially troublesome in emergency scenarios, whether it's a rescue mission or a tire blowout. The right cell signal booster can solve this dilemma and keep your team connected through every part of their journey.
What Is a Fleet Vehicle?
A fleet is a group of motor vehicles owned or leased by a commercial or government entity. They can include all vehicle classes (1-8), including high-profile trucks, utility vans, SUVs, delivery trucks, tractor-trailers, and more. 
Many businesses utilize fleet vehicles, including:
Last-mile delivery
Law enforcement
Municipal firefighters
Emergency medical personnel
Utility companies
Oil field companies
Contractors
Telecommunication installers
Construction companies
These vehicles may be managed by a fleet manager and connected to a fleet telematics system. Many companies also purchase or lease fleet vehicles to complete field service projects or to deliver goods to end customers.  
What Is Fleet Telematics and Why Is Cellular Connectivity Essential?
A fleet telematics system empowers a commercial fleet to send and receive information to its central office. This helps dispatchers and fleet management teams reduce risks and increase productivity among drivers. These typically consist of both a stationary fleet communication system and a system within each vehicle.  
Fleet telematics systems process and store real-time data on location, vehicle systems, mileage, and fuel economy. They help fleet managers track idle times, optimize routes, and improve safety.  
Devices and software involved in fleet telematics include:
In-vehicle hardware that connects to the internet

Mapping engines

Wireless or satellite data communication networks

Vehicle engine computer modules

GPS modules

Fleet management software and mobile apps

All this data sharing and communication hinges on cellular connectivity. With the goal of reducing costs and increasing revenue, commercial fleets can no longer afford gaps in reception that cause lagging data speeds and productivity loss. A cell signal booster is an integral component of a fleet telematics system — providing the signal strength and reliability that companies require to succeed in today's world.
What Is a Cellular Booster System?
A cellular booster system consists of an outside antenna, a signal booster or amplifier, and an inside antenna. It's also called a signal amplifier, repeater, or network extender. The outside antenna picks up voice, 3G, 4G LTE, and 5G data signals and delivers them to the booster.
An in-vehicle booster amplifies cell signal and acts as a relay between your devices and the cell tower with the strongest available signal. As a result, a stronger signal becomes available for your smartphone, tablet, and other cellular-connected devices. Then, your data and calls are fed back to the network through the booster.
Fleets across every industry travel through poor-reception areas. OTR truckers drive an average of 1,055 miles on each trip, while light and medium-duty commercial fleets average between 23,500 to 50,000 miles per vehicle. They travel through rural and remote areas where few towers and many natural signal obstructions exist. Even in metropolitan areas, fleet vehicles enter high-traffic zones where connecting to the internet is difficult — if not impossible. A fleet vehicle cell signal booster gives fleet managers and drivers the assurance that lines of communication and data collection will work 24/7.
Fleet Vehicle Cell Coverage With weBoost
Your fleet needs a state-of-the-art signal booster that improves cell signal coverage anywhere — helping you track vehicles in real time and collect immediate GPS-to-driver feedback. weBoost brings you cutting-edge cellular connectivity technology with solutions for all vehicle weight classes and types.
Each system on our list comes with these features:
Fully FCC-approved
No monthly fees
No landline or WiFi connection required
Works with all major U.S. cellular service providers
Compatible with 5G networks
Two-year warranty and 30-day money-back guarantee
Your team depends on you to choose the strongest commercial-grade product available built especially for drivers. Look no further than this guide to the year's best fleet phone signal boosters for vehicles.
The Best Cell Signal Boosters for Fleet Vehicles in 2022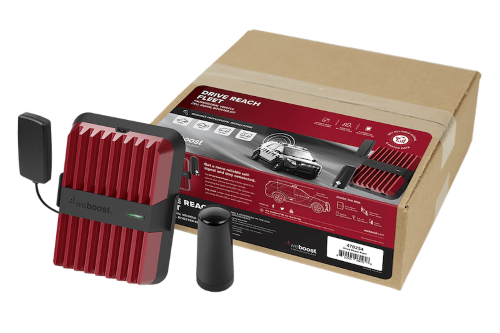 The Drive Reach Fleet is weBoost's strongest multi-user cell signal booster for vehicles. It reaches cellular towers up to 74% farther than the Drive X Fleet. Its unparalleled uplink-output power of up to 29.5 dBm ensures that you can track and keep your fleet connected even in weak signal areas. Drive Reach Fleet works seamlessly with all phones, cellular devices, and networks to enhance voice and data for multiple users and devices.
Features:
Most powerful booster
Farthest reach
Requires professional installation
High-performance, fixed NMO antenna
Power supply hardwired for increased reliability
Up to 50 dB system gain — the maximum allowed by the FCC
Wirelessly amplifies cell signal
5 dB increase in signal output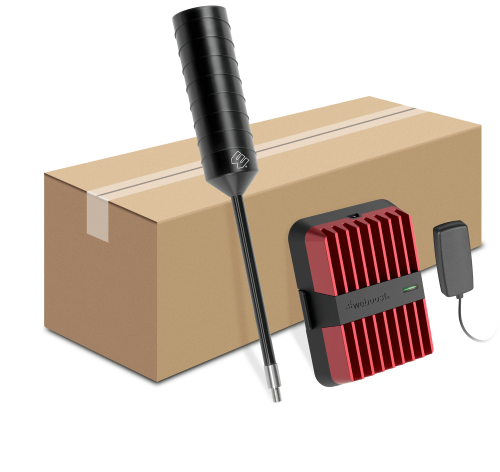 The Drive Reach OTR Fleet features a combination of modular construction and mounting hardware. This increases surface area for peak performance. Its custom configuration allows for under-seat or in-trunk mounting options for all vehicle classes (1-8). The antenna is placed above any obstructions to pick up the strongest available signal.
Features:
Most powerful OTR booster
Farthest reach
Requires professional installation
Adjustable OTR Truck antenna
3-way mount and hardware for multiple install options
Power supply hardwired for reliability
Up to 50 dB system gain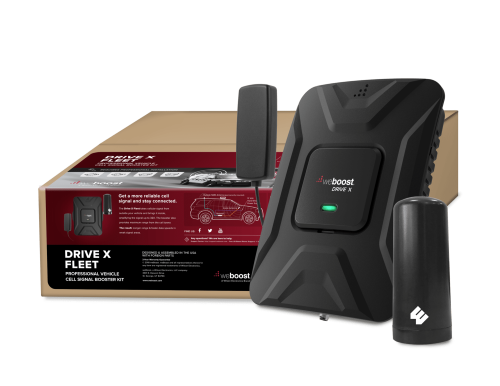 The Drive X Fleet is weBoost's standard fleet vehicle cell signal booster, designed especially for a wide range of commercial, emergency, and government vehicles. It features a high-performance NMO antenna to enable consistent communication between dispatchers, fleet managers, and crews. This booster enhances cellular reception throughout the vehicle for all phones and in-vehicle devices simultaneously.
Features:
2nd most powerful fleet booster
Requires professional installation
Permanent-mount NMO antenna
Hardwired power supply for even more reliability
Up to 50 dB gain — the maximum allowed by the FCC
Wirelessly amplifies cell signal (devices do not have to stay in a cradle or be plugged in)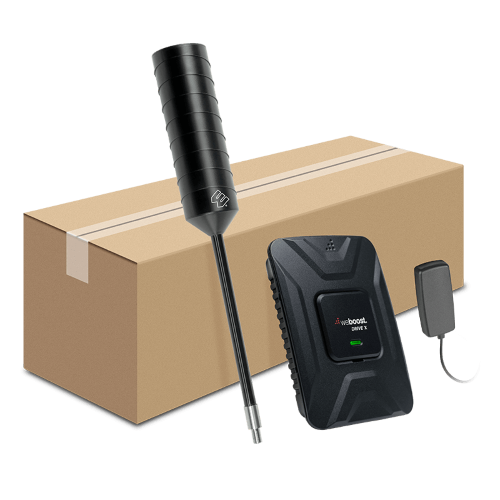 The Drive X OTR Fleet enhances calls and high-speed data and internet for multiple users and devices in trucks and commercial vehicles. It comes with an all-weather, omnidirectional antenna for a connection range 60% greater than other boosters on the market. It amplifies all available network signals up to 32 times.
Features:
2nd most powerful OTR booster
Professional installation
Adjustable OTR antenna
Power supply hardwired for increased reliability
50 dB system gain — the maximum allowed by the FCC
Why Do Fleet Vehicles Get Poor Cellular Signal?
As cellular signals travel through materials such as the body of a vehicle, they get weaker. Signals also grow fainter the farther they travel from cell towers. weBoost external antennas and cell signal boosters capture and amplify weak outside signal for uninterrupted performance of your fleet telematics system and in-vehicle devices.
Enhanced Connectivity = Stronger Security
Cell signal boosters add security and efficiency to your fleet vehicles — reducing costs and increasing profits. weBoost products integrate seamlessly with cellular-based fleet tracking and GPS systems, so fleet managers and dispatchers can enjoy reliable real-time data anytime. Our boosters feature built-in encryption to safeguard all data transfers and transactions.
Contact our sales reps today to determine your optimal fleet vehicle connectivity solution.
Where do you need to boost your signal?
Subscribe Now
Receive updates and offers by joining our list!
Popular Articles